Welcome
and Good Birding!
We invite you to join us in Kuna Idaho May 13-15, 2011 for the 3rd annual Snake River Birds of Prey Festival. This year's Festival promises to be a rewarding and memorable event!
Whether you're a beginning or experienced birder, a local resident or visitor, you'll experience the unique habitat and birds of the Morley Nelson Snake River Birds of Prey National Conservation Area.
---
2011 Youth Art Contest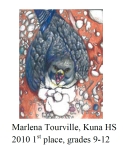 We would like to see your interpretations and renderings of birds of prey (eagles, falcons, hawks, owls, etc) and the Snake River Canyon.
Draw, paint, or crayon your original illustration!
Deadline for entry is Monday April 18, 2011.
---
2011 Promotional Video
---
2010 Promotional Video
---
Quick PDF Downloads
Forms - Registration Form - Festival Schedule
Maps - Festival Kuna Area access Map - Kuna Street Map - NCA location Map
---
Bring Home a Souvenir
Souvenir t-shirts, pins, and posters will be available during the festival.
---
Enjoy an authentic mexican meal at El Gallo Giro and save.

Whether you are here for one day or all three, take a look at the different things you can do. » »

The NCA is not only a great place to see raptors but also many other species. Check out the bird list for the area. » »

<! --------- sidebar (right column) ----------->